A melting pot of old and new meet with ease for an experience like no other in Asia.
A warm welcome awaits in Asia with some of the friendliest locals only too happy to share their traditions, culture and cuisine with visitors. Embrace the diversity on offer across the region and soak in incredible beauty at every turn.
Perhaps the hardest decision is which extraordinary country to visit. In just one trip you can combine bustling cities, deserted beaches, tropical jungles and iconic monuments. So, soak it all in, you won't be disappointed.
Japan
Uncover a wealth of tradition
Behind the bright lights and vibrant energy of Tokyo lie timeless traditions waiting to be uncovered. From tea ceremonies in Kyoto to ryokans in Sapporo.
India
Tropical, steamy, exotic, lush
Why not book a holiday in India and see this sprawling country for yourself? To get started, here's a pick of the best destinations across the North, East, South and West to add to your Indian itinerary.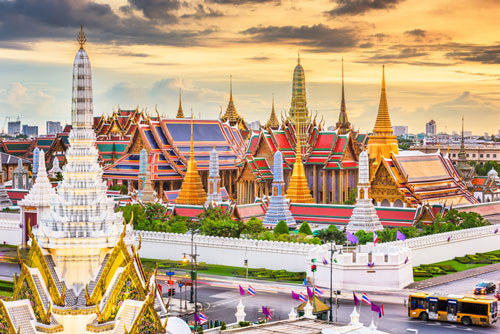 Thailand
The land of smiles
The gateway to Asia, Thailand is always a treat. Bangkok bursts with energy and sun-drenched beaches frame the coastline.
Vietnam
Past and present combine
Discover stories of the past in the historic cities of Hanoi, Ho Chi Minh and Hue, woven into a modern and progressive present.
Malaysia
Beautiful Borneo
One of Asia's premier wilderness regions, Borneo boasts dense jungle and tropical rainforests teeming with wildlife.
Singapore
A fusion of influences
A cosmopolitan city with soaring skyscrapers and modern attractions, Singapore blends past influences from China, Malaysia and Indonesia.
China
A magnificent mixture
Fast-paced cities burst with ultra-modern skylines, but the past is still present with ancient wonders on show such as Tiananmen Square, the Forbidden City and the Terracotta Warriors.
12 nights' accommodation with 10 breakfasts, 7 lunches and 6 dinners
Includes return international flights
VIP door-to-door service, 14 excursions and visits, overseas transportation
Tour itinerary: Kota Kinabalu | Kinabalu National Park | Kinabatangan River | Gomantong Caves | Sandakan | Kota Kinabalu
Tour highlights: Seek out beautiful wildlife as you cruise along the remote Kinabatangan River | Explore gardens of exotic flowers and climb into ancient tree canopies | Go in search of proboscis monkeys, pygmy elephants, and orangutans
12 nights from £2,945pp
Valid for departures January 2024
Alternative dates available
Regional departures available
To book or for more information,
call Silver Travel Advisor on 0800 412 5678.
Your holiday, your choice
Passage Through Rajasthan with Cox & Kings
14 nights' accommodation with 14 breakfasts, 2 lunches and 6 dinners
Includes direct international flights, internal flights in Indian and overseas transport
Services of an experienced local tour manager
Tour itinerary: Mumbai | Udaipur | Ranakpur | Deorgarh | Jodhpur | Bikaner | Jaipur | Ranthambore National Park | Fatehpur Sikri | Agra | Delhi
Tour highlights: Dine on typical Mewari cuisine on the rooftop of an historic fort | Take a scenic train ride through rural Rajasthan | Watch the sun set behind the sand dunes of the Great Thar Desert | Two included safaris in Ranthambore National Park
16 days from £2,995pp
Valid for departures 22 February 2024
Alternative dates available
Regional departures available
Hand-picked travel partners
From the Forbidden City & Great Wall to cities like Beijing, & Xian. Explore the unforgettable solo holiday to China…
Savour stunning scenery, soak up the sights and sounds, and the best part is you don't have to share the…
I was impressed by the island's incredible wildlife and ongoing efforts to protect their natural habitat….
A five-day stay gave me a brief introduction to this country that deserves a much longer look….
This was a fantastic resort and we had a fabulous time. There were four pools and plenty of room around them. The staff were
Experience Tranquility and Renewal at Tattva Spa, Gurgaon's Finest Spa
Tattva Spa is a premier destination for spa enthusiasts in Gurgaon. Known for its exceptional service and luxurious treatments, Tattva Spa is the perfect
Gilgit Serena Hotel – The Best Hotel in Northern Area of Pakistan.
Gilgit Serena Hotel is more than an inviting gateway to the legendary Silk Road, far beyond a tranquil mountain sanctuary, more than simply a
Explore the world on your terms
Our tailor-made service will help you plan the holiday of your dreams with one of our Travel Experts