A melting pot of old and new meet with ease for an experience like no other in Asia.
A warm welcome awaits in Asia with some of the friendliest locals only too happy to share their traditions, culture and cuisine with visitors. Embrace the diversity on offer across the region and soak in incredible beauty at every turn.
Perhaps the hardest decision is which extraordinary country to visit. In just one trip you can combine bustling cities, deserted beaches, tropical jungles and iconic monuments. So, soak it all in, you won't be disappointed.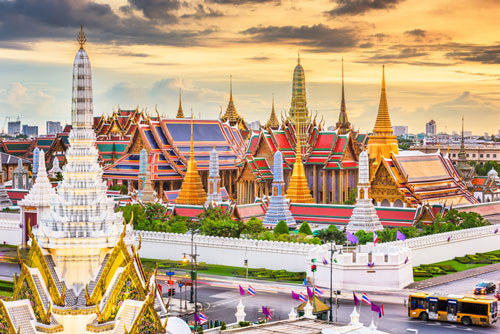 Thailand
The land of smiles
The gateway to Asia, Thailand is always a treat. Bangkok bursts with energy and sun-drenched beaches frame the coastline.
Vietnam
Past and present combine
Discover stories of the past in the historic cities of Hanoi, Ho Chi Minh and Hue, woven into a modern and progressive present.
Japan
Uncover a wealth of tradition
Behind the bright lights and vibrant energy of Tokyo lie timeless traditions waiting to be uncovered. From tea ceremonies in Kyoto to ryokans in Sapporo.
Malaysia
Beautiful Borneo
One of Asia's premier wilderness regions, Borneo boasts dense jungle and tropical rainforests teeming with wildlife.
Singapore
A fusion of influences
A cosmopolitan city with soaring skyscrapers and modern attractions, Singapore blends past influences from China, Malaysia and Indonesia.
China
A magnificent mixture
Fast-paced cities burst with ultra-modern skylines, but the past is still present with ancient wonders on show such as Tiananmen Square, the Forbidden City and the Terracotta Warriors.
Your holiday, your choice
Exclusive Silver Travel Advisor Tour
11-night fully hosted tour exclusive to Silver Travel Advisor customers
Includes flights, accommodation, transport, meals and excursions
Itinerary: Tokyo | Hakone | Takayama | Kanazawa | Hiroshima | Kyoto
Trip highlights: Explore Tokyo, home to sprawling parkland, peaceful shrines and temples | Visit Hakone, famous for its hot springs, outdoor pursuits and the view of the nearby Mount Fuji | Discover Kyoto taking in sights including Kinkakuji Temple, Nijo Castle, Kiyomizu Temple and Heian Jingu
11 nights from £8,395pp
Valid for departures 24 March 2024
Regional departures available
Click here for more details
Hand-picked travel partners
Beverley Watts visits the subtropical and techno-savvy hot spot in East Asia.
Kerry Gallagher takes the trip of a lifetime to India's "Golden Triangle" with a small group tour.
Spoil your tastebuds and soak up the local culture by sampling a few of the authentic foodie experiences pioneered by Intrepid Food Tours.
Want to feel like a traveller rather than just a tourist on a pre-packaged trail? Cambodia might just be the adventure that you're looking for. Read more!
Gilgit Serena Hotel – The Best Hotel in Northern Area of Pakistan.
Gilgit Serena Hotel is more than an inviting gateway to the legendary Silk Road, far beyond a tranquil mountain sanctuary, more than simply a
Home in the heart of Bangkok
Asia hotel is in the heart of Bangkok. Minutes from all the malls and the fabulous Jim Thompson house. The breakfast is worth getting
The Danna Langkawi, Malaysia
After a few hectic days in Kuala Lumpur, I swapped hustle and bustle for rest and relaxation on the idyllic island of Langkawi (just
Explore the world on your terms
Our tailor-made service will help you plan the holiday of your dreams with one of our Travel Experts