Robinson Club Cabo Verde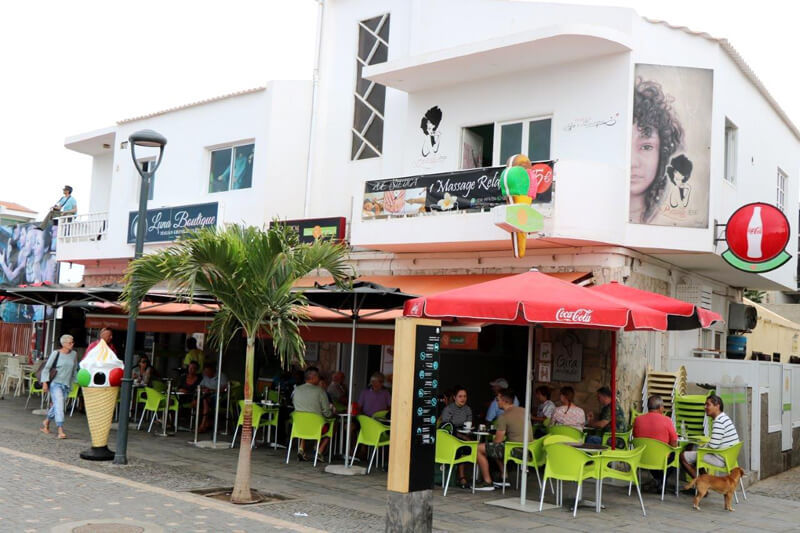 I had earlier visited Cape Verde when, in 2007, TUI (then Thomson) commenced the first direct flights from the UK to the under-developed island of Sal. The destination was something of a well-kept secret at that time. Today they have two flights a week from Gatwick and Manchester and have added the island of Boa Vista to the destination, so perhaps the secret is getting out.
Just six hours flying time away and a one-hour time difference, Cape Verde is one of the most convenient destinations for winter sunshine, although it welcomes visitors year-round.
Named after its salt pans, the island of Sal, one of the ten islands that make up Cape Verde, is a large sandy outcrop in the Atlantic. To the east is Senegal, to the west is Brazil. The climate is cooler and less oppressive than mainland Africa, thanks to the surrounding ocean and almost constant winds. Virtually nothing grows there apart from a few stunted trees and bushes and everything, except fish, is imported.
The biggest town is colourful Santa Maria. Founded in 1830, its harbour is the centre of a small fishing industry supplying the local hotels. The town has some shops and bars catering for tourists and at night you will hear the unmistakable sound of Portuguese Fado music. However, many of the activities are centred on the hotels.
My destination was the newly-opened Robinson Club Hotel, the latest in a chain of twenty-five hotels from the successful German holiday company owned by TUI. It's a fifteen minute stroll along the beach or promenade to Santa Maria.
The island is known as a place to chill out and relax in warm sunshine. However the Robinson also caters for active guests, making full use of Sal's huge and almost empty sandy beaches and regular breezes; wind surfing and kite surfing are two of the main attractions, as well as sailing and scuba diving. But they are not compulsory and the extensive grounds and vast beaches provide plenty of places to relax for those who want a less strenuous holiday.
The hotel is adults-only and all-inclusive. The main restaurant is buffet-style serving breakfast, lunch and dinner, with a large variety of items on offer. At breakfast there was a huge variety of breads and buns, although no means of making toast.
At lunch and dinner many of the dishes were side items, the main items being primarily fish or chicken. Sparkling and still water are placed on each table and if you ask for red, white or rosé wine you will be given a bottle, one for each!  Lager is available on a self-service basis from a tap in the restaurant.
There is also a speciality Tapas restaurant, Pousada, which is free as far as food is concerned but there is a charge for the fine wines served there. The menu offers a range of enticing dishes and guests are encouraged to choose several. I did my best! A second speciality restaurant is due to be opened soon.
Accommodation consists of a double rooms and a range of suites for two. Bath robes are provided in all rooms and are often worn around the grounds. Slippers are available for suite guests. Each room is equipped with a fridge and a coffee maker with both coffee and tea capsules. Much use is made of glass walls and sliding doors in the bathrooms and some guests have commented on the apparent lack of privacy, although I didn't have a problem with that.

There is a gym, fitness room with spinning, spa, and mixed sauna offering both clothed and unclothed areas. There are also a number of fitness classes including yoga at the beach. Of course there are the usual beach sports such as volleyball and football, but it is the water sports that are the speciality of the Robinson.
Evening entertainment focuses on the main bar where there is an open-air disco and an occasional show. At the other end of the hotel the cosy No Hassle bar provides a tranquil setting for those seeking a quiet place to drink and chat.
Perhaps one of the best-known Cape Verdean descendants is the actress Sara Martins who played Detective Sergeant Camille Bordey in the first four series of the BBC programme Death in Paradise. It was filmed on the fictitious island of Sainte-Marie, in reality the French Caribbean island of Guadaloupe.
However, Sal cannot be compared to the Canaries or Caribbean. It's a unique destination offering easy access to guaranteed year-round sunshine, comfortable temperatures in the mid to high 20s, and a great place to relax and re-charge the batteries.